Posts for: July, 2014
By Eric G. Piascik, DMD
July 17, 2014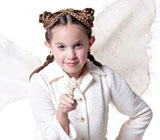 The Tooth Fairy has been easing the process of losing baby teeth for hundreds of years — at least 500 years according to one authority on the subject. Her name is Brady Reiter, and while she looks only age 11 in earth years, she is actually a 500-year-old Tooth Fairy; at least she plays one on DVD.
Brady is the star of Tooth Fairy 2, a new DVD comedy also starring Larry the Cable Guy as a novice Tooth Fairy doing penance for questioning the existence of the magical sprite who leaves payment under pillows for lost teeth.
In a charming interview with Dear Doctor magazine, Brady says it wasn't very difficult to play an ancient tooth fairy trapped in a child's body.
"I'm kind of more mature than an average 11-year-old because I have older brothers and sisters," Brady told Dear Doctor. "It was kind of just connecting with my inner 500-year-old. It was very fun to play a character like that!"
Brady also enjoyed working with Larry, who dons a pink tutu and fluffy wings for his role.
"In hair and makeup every morning, he'd be making all these jokes," she said. "He just cracked us up 100 percent of the time!"
But as much fun as Brady had on the set, her character, Nyx, is all business. And that's how Brady, who recently lost her last baby tooth, has always believed it should be.
"My whole life I thought the Tooth Fairy is just like Nyx," Brady said. "They know what to do, they come in, they're professionals, you don't see them and they never make a mistake and forget your tooth. Just like Santa Claus, tooth fairies are very professional."
Brady also told Dear Doctor that she is very excited to be helping the National Children's Oral Health Foundation fight childhood tooth decay as spokesfairy for America's ToothFairy Kids Club. The club offers kids personalized letters from the Tooth Fairy along with lots of encouraging oral health tips and fun activities.
If you would like to enroll your child in the club — it's free! — please visit www.AmericasToothFairyKids.org. And to make sure your child's teeth and your own are decay-free and as healthy as possible, please contact us to schedule your next appointment.
By Eric G. Piascik, DMD
July 02, 2014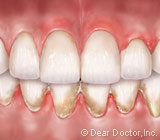 As we continue to learn about the delicate balance between the body's various organ systems, we're discovering what affects one part of the body may affect other parts. This is particularly true for patients with periodontal (gum) disease and one or more other systemic diseases — researchers have identified a number of possible links between them.
Here's a snapshot of three such diseases and how patients who suffer from them and gum disease may be affected.
Diabetes. Both diabetes (caused by the body's inability to produce insulin that regulates blood sugar levels) and gum disease can trigger chronic tissue inflammation. Because of inflammation, diabetics are more prone to infectious diseases like gum disease. From the other perspective, uncontrolled gum disease and its resultant inflammation can worsen blood sugar levels. Some research has shown treatments that reduce oral tissue inflammation in diabetics with gum disease may also help bring their blood sugar levels into normal range.
Cardiovascular Disease. Diseases of the heart and blood vessels can eventually lead to heart attacks and strokes, the world's leading causes of death. There's evidence that some types of bacteria that cause gum disease may also contribute to higher risks for cardiovascular disease. Reducing the levels of these bacteria in the mouth through periodontal treatment can help lower the risk of cardiovascular disease.
Osteoporosis. Like gum disease, osteoporosis causes acute bone loss, although from a hormonal imbalance rather than as the result of bacterial infection. The major link between the two conditions, though, relates to their treatments. On the positive side, the antibiotic doxycycline has displayed positive effects on both conditions when administered in low doses. On the other hand, a class of drugs known as bisphosphonates used to treat osteoporosis may limit bone regeneration after tooth extraction and could have implications for using dental implants to replace extracted teeth.
There's still more research needed on the relationship between gum disease and these and other systemic conditions. There's widespread optimism, though, that such research could yield new treatment approaches and procedures that bring better healing to the mouth as well as the rest of the body.
If you would like more information on the connection between oral and general health, please contact us or schedule an appointment for a consultation. You can also learn more about this topic by reading the Dear Doctor magazine article "Good Oral Health Leads to Better Health Overall."