Posts for tag: flossing
By Eric G. Piascik, DMD
September 01, 2017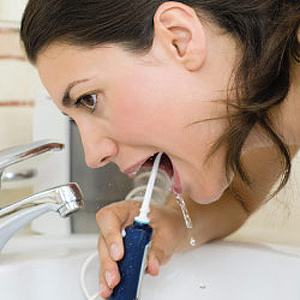 A critical part of effective, daily oral hygiene, flossing removes bacterial plaque from between teeth that can't be accessed with brushing. Unfortunately, it's often neglected — string flossing requires a bit more dexterity than brushing and can be difficult to do properly.
It can be even more difficult for people with implants or who wear orthodontic appliances. For brace wearers in particular, getting access to areas between teeth with string floss is next to impossible; the metal brackets and tension wire also have a tendency to catch and retain food debris that's difficult to remove with brushing alone.
Water flossing, using a device called an oral irrigator, is an effective alternative that addresses many of these difficulties. First available for home use in the 1960s, an oral irrigator delivers pulsating water at high pressure through a handheld applicator that forcefully flushes material from between teeth.
There's no question that string flossing is effective in plaque removal between teeth — but what about oral irrigators? A 2008 study looked at a group of orthodontic patients with braces who used oral irrigators and compared them with a similar group that only brushed. The study found that five times as much plaque was removed in the group using the oral irrigators as opposed to the group only brushing.
Oral irrigators may also be effective for people who've developed periodontal (gum) disease. In fact, oral irrigators coupled with ultra-sound devices are routinely used by dental hygienists to remove plaque and calculus (hardened plaque deposits) in periodontal patients. As with regular oral hygiene, though, it's important for patients with gum disease to include water flossing with daily brushing (at least twice a day) and regular cleaning sessions at the dentist to ensure removal of all plaque and calculus.
If you're interested in using an oral irrigator, be sure to consult with us at your next appointment. Not only can we recommend features to look for in equipment, but we can also instruct you on the techniques to make water flossing an effective plaque remover.
If you would like more information on water flossing, please contact us or schedule an appointment for a consultation. You can also learn more about this topic by reading the Dear Doctor magazine article "Cleaning Between Your Teeth."
By Eric G. Piascik, DMD
May 14, 2016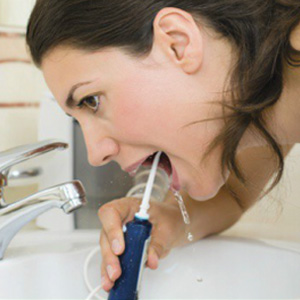 Great oral hygiene is built on two principal tasks — daily brushing and flossing. Brushing removes plaque — a thin film of bacteria and food particles — from broad tooth surfaces. Flossing removes plaque between your teeth you can't reach effectively with brushing. It takes both tasks to get the most disease prevention benefit from your daily cleaning.
Many people, though, have a hard time incorporating the latter of the two into their daily routine. This may be because manual flossing with string seems to require a bit more manual dexterity, although it can be mastered with proper training and practice. Some, though, may not possess the physical ability to adequately floss. It's also difficult for individuals wearing orthodontic braces or other appliances that cover teeth.
Fortunately, there's an alternative to string floss: oral irrigation. This method removes plaque from between teeth with pulsating water pressurized by either a handheld or countertop device known as an oral irrigator or water flosser, and emitted through a special nozzle directed at the teeth. Studies have shown it to be an effective means for controlling plaque.
As to you switching to a home water flosser, we'll be happy to discuss if it's a good option for you. We can also train you on effective techniques for string flossing if you don't feel you're doing it properly.
Whichever method you use, it's important for you to floss daily to keep plaque under control between your teeth. Along with brushing and regular dental visits, it's one of the best things you can do to ensure your teeth stay healthy and free of tooth decay or periodontal (gum) disease.
If you would like more information on flossing, please contact us or schedule an appointment for a consultation. You can also learn more about this topic by reading the Dear Doctor magazine article "Cleaning Between Your Teeth."
By Eric G. Piascik, DMD
February 13, 2015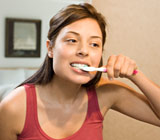 We humans have been cleaning our teeth for millennia. While the tools and substances have changed (we don't use twigs or pumice anymore), the reasons haven't: we want a nice, fresh smile and a clean-feeling mouth.
Objectively, though, oral hygiene has one primary purpose — to remove dental plaque, the whitish film of bacteria that grows on unclean tooth surfaces and at the gum line. Removing this decay-causing film can drastically reduce your risk of dental disease.
Effective oral hygiene depends on two primary tasks: brushing and flossing. You should perform these tasks at least once (flossing) or twice (brushing) in a 24-hour period. Brushing involves a simple technique. You hold your toothbrush (a well-designed, multi-tufted brush) in your fingertips with the same pressure as you would a pen or pencil. You then gently scrub all of the tooth surfaces starting at the gum line, holding the brush at a 45-degree. "Gently" is the key word here: it's possible to damage your tooth and gum surfaces by brushing too vigorously.
While brushing seems easier for people to fit into their daily routine, flossing seems to be harder. It's just as important, though, because over half of plaque accumulation occurs between teeth, in areas where brushing can miss. Like brushing, flossing isn't difficult to do. Holding a strip of floss taut by your fingers between both hands, and gently slipping the floss between your teeth you form a "C" shape around each tooth surface as you apply pressure onto the one surface you are cleaning. Gently move the floss up and down for three or four strokes or until you hear a squeaky clean sound (that's when you know the surface is clean). Then you go to the other tooth surface by lifting the floss above the gum line so that you don't damage the gum tissue in between the teeth.
You should also schedule regular checkups and cleanings with our office to supplement your daily routine. Professional cleanings remove any hidden plaque that brushing and flossing may have missed. A checkup also gives us a chance to evaluate how well your hygiene program is progressing. Our partnership in proper oral hygiene can make all the difference in you avoiding tooth decay and other dental diseases.
If you would like more information on proper oral hygiene, please contact us or schedule an appointment for a consultation. You can also learn more about this topic by reading the Dear Doctor magazine article "Oral Hygiene Behavior."