Posts for: June, 2014
By Eric G. Piascik, DMD
June 17, 2014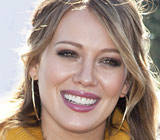 Many Hollywood luminaries use porcelain veneers to enhance their smiles. Take actress and singer Hilary Duff, who, according to People magazine, had veneers placed on her two front teeth after chipping them on a microphone during what must have been an extremely energetic performance.
Well, you don't have to be a Hollywood star to benefit from a smile enhanced with porcelain veneers. If you have small chips, cracks, slight tooth rotations or minor spacing problems, veneers may be able to give you back your smile — or an even better one.
The word "veneer" refers to a super-thin covering, and in dentistry a veneer is a thin layer of porcelain that replaces your natural tooth enamel. Porcelain is the material of choice because of its strength, translucency, and ability to resist erosion.
In the right hands, dental porcelain can mimic tooth enamel perfectly. To make veneers, a skilled dental technician will mix porcelain powder (in a shade specified by the dentist) with water and then fire the material in an oven like pottery; the porcelain is built up in layers for a truly lifelike effect.
Before a veneer is bonded to a tooth, often we need to remove a tiny bit of the tooth's existing enamel so that the final effect will not be too bulky. The procedure is virtually painless and can be completed in as little as two visits. Because enamel is removed, this particular cosmetic treatment is not reversible. Sometimes veneers can be added directly onto the tooth surface without any tooth reduction and therefore are reversible if used in this way.
Once you have veneers, please keep in mind that while extremely strong, porcelain veneers are not indestructible; you won't want to do things like crunch ice or break nuts open with your teeth. And if you are a teeth-grinder, you should wear a nightguard to protect your beautiful new smile. With proper care, your veneers will last 20 years or more.
If you would like more information about porcelain veneers, please contact us or schedule an appointment for a consultation. You can also learn more by reading the Dear Doctor magazine article "Smile Design Enhanced With Porcelain Veneers." Dear Doctor also has more on "Cosmetic Dentistry: A Time For Change."
By Eric G. Piascik, DMD
June 02, 2014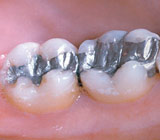 Metal amalgam fillings for dental caries have been used since the mid 19th Century. Although newer, "natural color" filling materials have become available, amalgam remains a standard choice among dentists.
Dental amalgam is a metal alloy created by carefully combining exact proportions of mercury, silver, tin and copper. Though quite pliable when first mixed, the alloy eventually sets into a very hard substance that stands up well against the forces produced by the mouth's natural chewing function. The presence of mercury, however, has raised concerns for some that the metal's toxic properties pose a risk to the patient's health.
But after decades of research, the American Dental Association and other health organizations have concluded that dental amalgam "is a safe, reliable and effective restorative material." Studies have determined that any free molecules of mercury that could potentially enter the bloodstream are trapped in the set amalgam. And although the amalgam can release mercury vapor during chewing, the amounts are well below the levels considered harmful.
Dental amalgam has proven to be versatile, effective and economical. It doesn't create an allergic reaction, is quite durable, and doesn't interfere with normal chewing function. It does, however, have its drawbacks. Its use can require more tooth material to be removed to keep the fillings in place, and they can increase temperature sensitivity during the initial four to six weeks. And, of course, their metallic appearance, especially when used in more visible front teeth, reduces their aesthetic appeal.
Other, more cosmetically appealing types of filling material have been developed over the years. These include composite resin fillings, a mixture of glass or quartz in a resin medium; glass ionomers, made of acrylic acids and fine glass powders and best used in areas not subject to heavy chewing; and resin ionomers, similar to glass ionomers but with the addition of acrylic resin. Each of these has their advantages and disadvantages (as well as cost considerations), but they're main advantage over amalgam is their mimicry of natural tooth color.
The choice of either dental amalgam filling or one of the tooth-color alternatives depends on what you may need and can afford. Rest assured, though, that if the choice is dental amalgam, this restoration workhorse can provide you years of safe and effective service.
If you would like more information on your options for tooth fillings, please contact us or schedule an appointment for a consultation. You can also learn more about this topic by reading the Dear Doctor magazine article "Silver Fillings."