Posts for: November, 2014
By Eric G. Piascik, DMD
November 19, 2014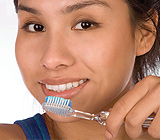 When you're trying to maintain a good oral hygiene routine, your toothbrush is bound to see a lot of action. Day in and day out, it gets used about twice a day, every day — morning and night, whether you're feeling great or under the weather, in a hurry or not. And it's stored in the bathroom: a moist environment with the potential for exposure to plenty of bacteria (and not just the ones that live in your mouth). So after all of that service, does your toothbrush itself need any particular care or cleaning — and do you need to worry about getting sick from brushing?
Let's answer the last question first. It's very unlikely that you can re-infect yourself with an illness (a cold, for example) from using your own toothbrush. That's because once you've been infected, the antibodies that are built up in response to the invading germs will generally prevent you from getting the same disease for some time afterward. Using someone else's toothbrush, however, is a never a good idea — especially if they are sick (whether they show any symptoms or not), and doubly so if the bristles are still wet. It's very possible to transfer all kinds of bacteria — even the bacteria that cause tooth decay — from person to person this way.
Can bacteria really survive for any length of time on your toothbrush? The short answer is yes, as they can (and do) live almost everywhere. But for people in a normal state of health, there's no real reason to worry: Through long exposure, your body is generally quite capable of defending itself from these microorganisms. The American Dental Association states, "[T]here is insufficient clinical evidence to support that bacterial growth on toothbrushes will lead to specific adverse oral or systemic health effects."
However, if you or a family member have a compromised immune system (due to radiation treatment, chemotherapy or disease, for example), it might make sense to take some precautions. Using an antibacterial mouthrinse before you brush can reduce the amount of bacteria in your mouth — and on your toothbrush. Washing the brush afterward with an antimicrobial cleaner or sanitizer can also decrease the level of bacteria that remains on the toothbrush.
For everyone else, it's best to follow a few common-sense steps for toothbrush care: Rinse your brush with tap water after you use it, to remove any remaining toothpaste and debris; store it upright, where it can air-dry before it's used again (not in a closed container, where bacteria can thrive); and get a new brush every three months. Your toothbrush is a major weapon in the fight against tooth decay — keeping it in good shape will help you maintain a healthy mouth and a healthy body.
If you have questions about toothbrushing or oral hygiene care, please contact us or schedule an appointment for a consultation. You can read more in the Dear Doctor magazine article "Oral Hygiene Behavior."
By Eric G. Piascik, DMD
November 04, 2014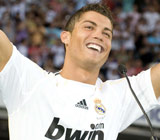 He's the world's highest-paid soccer player: a forward on the Spanish club Real Madrid, and captain of the Portuguese national team. His super-toned body is featured in a series of advertisements, and he's regularly seen with a supermodel on his arm. So would it surprise you to know that it took a bit of dental work to help Cristiano Ronaldo get a world-class smile?
You might never guess it to look at him now — but when he was 18 years old, and just starting his professional career with Manchester United in England, Ronaldo wore ceramic braces to correct a set of teeth that were quite a bit… off-sides. (As pictures from that time show, his teeth were out of alignment and had irregular spacing.) Yet in a relatively short time, his smile was completely transformed.
Ceramic braces are the treatment of choice for many sports stars and celebrities — and plenty of "regular" folks too. They work just like traditional all-metal braces, exerting a gentle force that slowly moves the teeth into better positions. But they have one major difference: They're a good deal harder to notice.
That's because instead of having brackets made of metal, this style of braces uses a high-tech ceramic material to attach the archwire to the teeth. The brackets blend right in with the natural shade of the tooth, so all you can see from a distance is the thin metal wire. That makes them a great orthodontic option for image-conscious celebs (like Tom Cruise and Faith Hill, who both wore them) — as well as anyone who may be concerned that traditional metal braces don't fit in with their "look".
In addition to ceramic braces, there are other, less-visible orthodontic treatments that can work just as well in many situations. One is lingual braces, which are similar to traditional braces — except they are applied on the tongue-side of the teeth, making them truly invisible. Another is clear aligners, a series of transparent plastic trays that are worn 22 hours a day and gradually move the teeth into more pleasing positions. What's the best way to know which system is right for you? Come in and talk to us about your options!
Besides braces, did Cristiano Ronaldo have other cosmetic dental work (like teeth whitening) done? It's possible, but he's not saying exactly. Yet, as he told a Portuguese magazine, "I feel good about myself and that's the most important thing."
If you would like more information about ceramic braces or other orthodontic treatments, please contact us or schedule an appointment for a consultation. You can learn more in the Dear Doctor articles "The Magic of Orthodontics" and "Orthodontics For The Older Adult."