Posts for: April, 2015
By Eric G. Piascik, DMD
April 24, 2015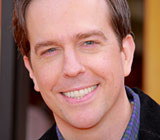 The lengths that some comedians will go to for a laugh! Actor Ed Helms, as dentist Stu Price, pulled out his own tooth in the movie The Hangover. Or did he? Turns out Helms really is missing a tooth, which never grew in. When he was in his late teens, he received a dental implant to make his smile look completely natural.
Helms told People magazine he wasn't exactly eager to remove the implant crown that had served him so well for almost 20 years, but there was no better way to do the famous tooth-pulling scene.
"We started to do different tests with prosthetics and blacking it out and nothing worked," Helms told the magazine. Helms' dentist said it would be okay to take the implant crown out. "My dentist was really into it," Helms said. The rest is movie history!
Congenitally missing ("con" – together with; "genital" – relating to birth) teeth are inherited and actually quite common. More than 20% of people lack one or more wisdom teeth, for example. These would not usually be replaced if missing (in fact, wisdom teeth are often removed) but it's a more serious issue when the missing tooth is in the front of the mouth — and not just for aesthetic reasons.
When a particular type of tooth is missing, it disrupts the pattern and function of the teeth. If left alone, sometimes the existing teeth will shift to close the gap. It's like removing a brick from an arch — the rest of the bricks would fall together in a different formation (or collapse entirely). And when upper and lower teeth don't come together properly, they can't function well.
The best treatment for this type of situation is the one Ed Helms had: a dental implant. They look and function like real teeth and do not attach to or damage adjacent teeth as other tooth-replacement options might.
It is important that a child with a congenitally missing tooth wait until jaw growth is complete — different for every person but usually in the late teens — before getting an implant. Otherwise, the artificial tooth might eventually appear too short when the person has stopped growing. In the meantime, there are temporary tooth replacements that can be made.
If you would like more information about options for congenitally missing teeth, please contact us or schedule an appointment for a consultation. You can learn more by reading the Dear Doctor magazine article "When Permanent Teeth Don't Grow." Dear Doctor also has more on "Teenagers & Dental Implants."
By Eric G. Piascik, DMD
April 09, 2015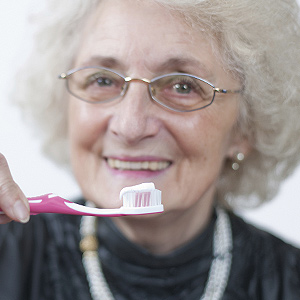 A focus on dental care in senior citizens is just as important as it is for children. Indeed, oral health in your later years can be a major factor in your quality of life.
For one, aging effects on other parts of the body can make dental care more challenging. Some hygiene tasks once performed easily become harder — arthritis, for example, or loss of muscle strength may make it difficult to hold a toothbrush or floss. In such cases, you may need to find new ways to make the task easier: a power toothbrush with a larger handle; pre-loaded floss holders or a water flosser; or adaptations to a manual brush to make it easier to hold, like attaching a tennis ball or bike handle.
Other age-related conditions — and their treatments — can negatively impact oral health. Less saliva production, which is a consequence of aging or certain drugs, increases the risk of tooth decay or periodontal (gum) disease. Older adults often develop gastric reflux problems that can introduce tooth enamel-eroding stomach acid into the mouth. And medications called bisphosphonates, often prescribed to treat osteoporosis, may interfere in rare cases with bone healing after tooth extraction or similar procedures.
Prior dental work can also prove challenging to treating dental disease. It becomes more difficult to preserve teeth threatened with decay if there are significant restorations or appliances to work around. Pain perception can also diminish with age, so that dental disease may not be noticed until later stages when significant damage has already occurred.
Oral care requires more attention as we grow older, or as we care for older family members. Your best defense against disease is to continue regular six-month visits with us. In addition to normal cleanings and checkups, we'll also screen for oral cancer (a more prevalent occurrence in older adults), review your prescriptions or other supplements and medications for any possible side effects to oral health, check the fit of any dentures or other restorations and evaluate the effectiveness of your hygiene.
While other age-related conditions may capture the majority of your attention, you shouldn't allow that to neglect your dental care. With your continued efforts, along with our support and your family's, you can continue to enjoy good oral health throughout your lifetime.
If you would like more information on dental care for senior adults, please contact us or schedule an appointment for a consultation.