Posts for: July, 2017
By Eric G. Piascik, DMD
July 18, 2017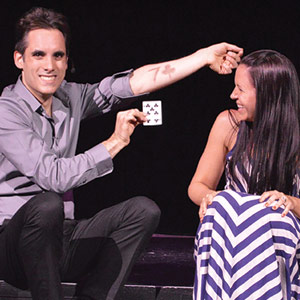 Magician Michael Grandinetti mystifies and astonishes audiences with his sleight of hand and mastery of illusion. But when he initially steps onto the stage, it's his smile that grabs the attention. "The first thing… that an audience notices is your smile; it's what really connects you as a person to them," Michael told an interviewer.
He attributes his audience-pleasing smile to several years of orthodontic treatment as a teenager to straighten misaligned teeth, plus a lifetime of good oral care. "I'm so thankful that I did it," he said about wearing orthodontic braces. "It was so beneficial. And… looking at the path I've chosen, it was life-changing."
Orthodontics — the dental subspecialty focused on treating malocclusions (literally "bad bites") — can indeed make life-changing improvements. Properly positioned teeth are integral to the aesthetics of any smile, and a smile that's pleasing to look at boosts confidence and self-esteem and makes a terrific first impression. Studies have even linked having an attractive smile with greater professional success.
There can also be functional benefits such as improved biting/chewing and speech, and reduced strain on jaw muscles and joints. Additionally, well-aligned teeth are easier to clean and less likely to trap food particles that can lead to decay.
The Science Behind the Magic
There are more options than ever for correcting bites, but all capitalize on the fact that teeth are suspended in individual jawbone sockets by elastic periodontal ligaments that enable them to move. Orthodontic appliances (commonly called braces or clear aligners) place light, controlled forces on teeth in a calculated fashion to move them into their new desired alignment.
The "gold standard" in orthodontic treatment remains the orthodontic band for posterior (back) teeth and the bonded bracket for front teeth. Thin, flexible wires threaded through the brackets create the light forces needed for repositioning. Traditionally the brackets have been made of metal, but for those concerned about the aesthetics, they can also be made out of a clear material. Lingual braces, which are bonded to the back of teeth instead of the front, are another less visible option. The most discrete appliance is the removable clear aligner, which consists of a progression of custom-made clear trays that reposition teeth incrementally.
How's that for a disappearing act?!
If you would like more information about orthodontic treatment please contact us or schedule an appointment for a consultation. You can also learn more about the subject by reading the Dear Doctor magazine article "The Magic of Orthodontics."
By Eric G. Piascik, DMD
July 03, 2017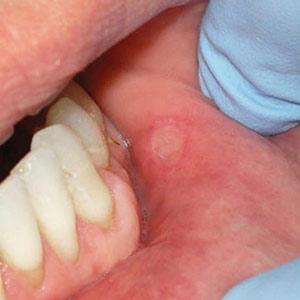 We've all had them — tiny sores that pop up seemingly out of nowhere under the tongue or the inside of the cheek. They're named aphthous ulcers, but are more commonly known as canker sores. For some people, they can be a recurring irritation.
Round with a yellow-gray center surrounded by reddened skin, aphthous ulcers seem to coincide with periods of anxiety or stress, or as a result of some minor trauma. Many people will feel a tingling or painful sensation a few hours or days before the ulcers appear. Once they appear they usually persist for a week to ten days before finally drying and healing. In the meantime they can be painful, especially while eating or drinking.
One form known as recurrent aphthous stomatitis (RAS) affects about a quarter of the population with outbreaks of multiple ulcers that occur regularly. RAS ulcers are usually one centimeter or more in size — the larger the sore the more painful they tend to be.
There are ways to ease the discomfort of an ulcer outbreak and help hasten their healing. A number of over-the-counter products can be used in minor cases to numb the area temporarily and cover it to facilitate healing. We can also apply steroids or inject other medications for more severe cases. You may also find curbing your eating of certain foods like tomato sauce, citrus or spicy dishes can help.
For the most part aphthous ulcers aren't dangerous. In some situations, though, you should seek dental or medical evaluation: a sore that doesn't heal within two weeks; increases in severity, frequency or duration of ulcers; or when you don't seem to ever be without an ulcer in your mouth. We may need to perform tests, including tissue biopsy, to make sure there aren't any underlying systemic conditions causing the ulcers.
More than likely, though, you'll only need relief from the aggravation caused by aphthous ulcers. Among the many remedies, there's one right for you.
If you would like more information on aphthous ulcers or other mouth sores, please contact us or schedule an appointment for a consultation. You can also learn more about this topic by reading the Dear Doctor magazine article "Mouth Sores."